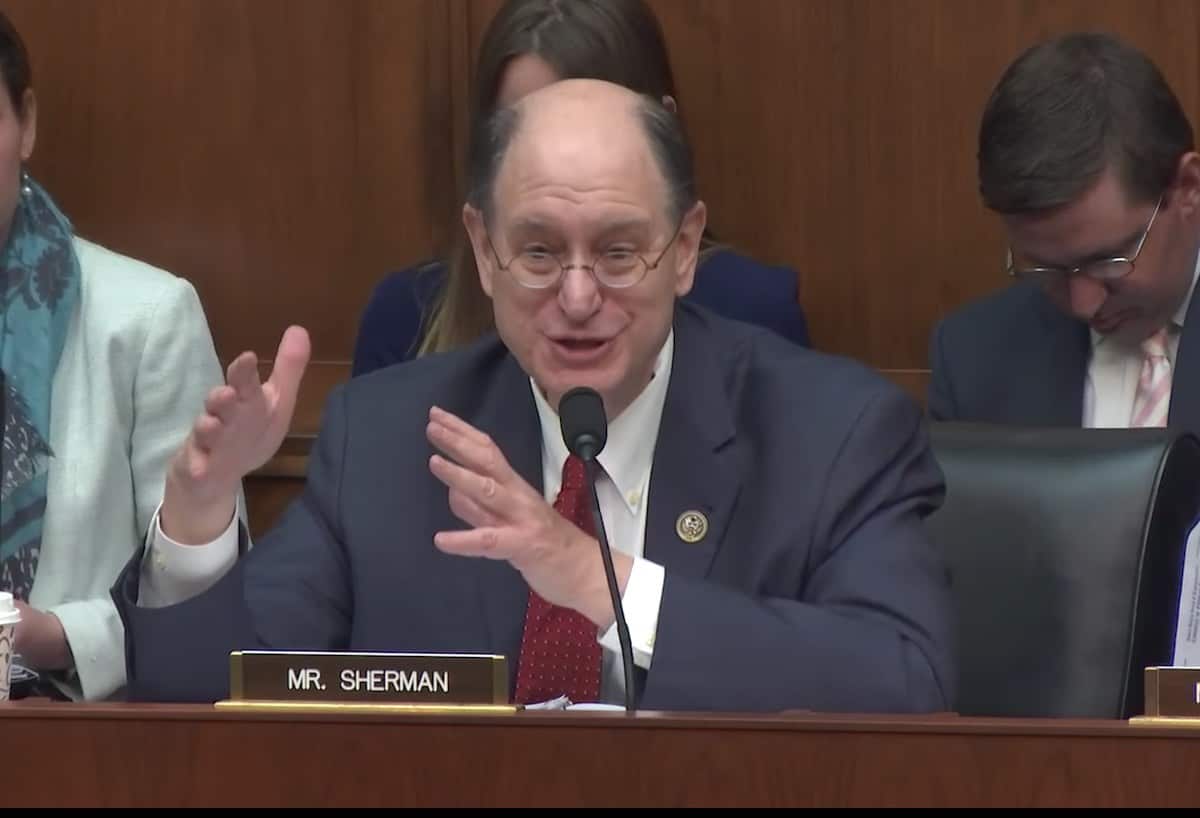 A US congressman is fronting for a bill that bans all cryptocurrencies.
Democrat Congressman Brad Sherman made these remarks on May 9 during a meeting held at the House Financial Services Committee.
The ground for the ban according to the outspoken Bitcoin critic is that crypto assets threaten to diminish the rule of law and disempower American foreign policy.
He stated:
"An awful lot of our international power stems from the fact that the dollar is the standard unit of international finance and transactions […] it is the announced purpose of the supporters of cryptocurrencies to take that power away from us."
Representative Sherman wants lawmakers to bring legislation that impedes American citizens from engaging in buying and selling of crypto assets.
A crypto threat, according to him, has the potential to shake-up America's geopolitical influence in the region thereby its sovereign currency power.
To demonstrate the dollar's dominance, Sherman stated that the New York Federal Reserve supports major critical transactions in main global markets like oil.
In case the cryptocurrencies gain acceptance a global measure of value, there would be many negative consequences.
In his conclusion, Sherman claimed that cryptocurrencies would utterly change the global and domestic status quo as it will disempower U.S.
foreign policy as well as the traditional law enforcement and tax collection of the country.
⭐
⭐
On an earlier occasion, Sherman sought for U.S.
citizens to be prohibited from buying or mining cryptocurrencies. As per the democrat, those who support initial coin offering should be on the lookout since "charlatans and scammers have always favored decentralized new enterprises."
Sherman views are not the only one as another notable figure came out to call for a ban on cryptocurrencies.
On Monday, Joseph Stieglitz, Nobel Prize-winning economist, stated that cryptocurrencies should be shut down.
Demonrat - Brad Sherman Law to Ban Bitcoin
As opposed Sherman, Stiglitz wants cryptos to be shut down to curb money. However, neither of them seem to know whether there efforts a ban or shutdown of crypto will be futile.
During one event in March 2018, Sherman said that cryptocurrencies are useful in helping criminals and terrorists.
In contrast, most of Sherman's fellow lawmakers, seem pro-crypto.
One of them is Congressman Darren Soto who is working on three interrelated bills that promote blockchain.
Sources:https://cointelegraph.com/news/us-rep-sherman-calls-for-crypto-ban-says-it-threatens-to-diminish-american-power
https://www.newsbtc.com/2019/05/09/a-bill-to-ban-all-crypto-congressman-calls-for-the-outlawing-of-digital-assets/
Premium WordPress Themes Download
Download WordPress Themes Free
Premium WordPress Themes Download
Download WordPress Themes
ZG93bmxvYWQgbHluZGEgY291cnNlIGZyZWU=
download micromax firmware
Premium WordPress Themes Download
download udemy paid course for free
TagsCryptocurrencyRep Sherman