Deccan Health Care IPO description – Deccan Healthcare has a diversified product portfolio with product basket consisting of more than 1,500 products used for various purposes such as hair care, skin care, heart care, immunity building, etc.
Listing ceremony of Deccan Health Care Limited
The company supplies products in various forms such as tablets, capsules, gel, liquids, ointments, powder, pastes, etc. It mainly develops and markets differentiated healthcare products specializing in nutraceutical and cosmeceutical products, which it commercializes through different revenue channels.
As on date of the Draft Prospectus, it has more than 140 distributors and around 6,100 marketing agents.
To expand its reach, it has also entered into two distributorship agreements with foreign distributors situated in Kenya and Tanzania.
In 2010, it set up its manufacturing facility at SIDCUL Pantnagar Rudrapur, Uttarakhand.
The facility complies with GMP and WHO GMP for its health / diet supplements and ayurvedic products.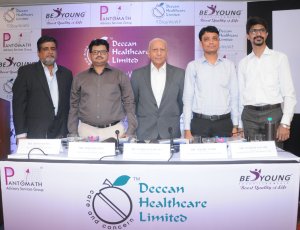 It has also obtained FSSAI license for its products. The company is also an ISO 9001:2008 certified for Quality management System for manufacturing and supply of Nutraceutical & Pharmaceutical Products.
Spread over 3,536 Sq. mts., the manufacturing facility is equipped with the requisite plant and machineries including Effluent Treatment Plant and other resources required for manufacturing process.
Promoters of Deccan Healthcare – Minto Purshotam Gupta and Hitesh Patel
Deccan Healthcare IPO details
Subscription Dates
18 – 20 December 2018
IPO Price band
INR95 – 100 per share
Fresh issue
2,212,000 shares (INR21.01 – 22.12 crore)
Offer for sale
2,000,000 shares (INR19 – 20 crore)
Total IPO size
4,212,000 shares (INR40.01 – 42.12 crore)
Minimum bid (lot size)
1,200 shares
Face Value 
INR10 per share
Retail Allocation
35%
Listing On
BSE SME platform
Use of funds
Repayment/prepayment of secured borrowings – INR7.95 crore
Purchase of plant & machinery and related civil work – INR5.55 crore
General Corporate Purposes
Issue Expenses
Deccan Healthcare's consolidated financial performance (in INR crore)
FY2016
FY2017
FY2018
Q1FY2019
Total revenue
16.18
29.39
39.76
8.59
Total expenses
12.44
19.87
27.09
6.12
Profit after tax
3.54
9.54
12.69
2.46
Deccan Healthcare Limited
247, 2nd floor
Dwarakapuri Colony, Punjagutta
Hyderabad – 500082, Telangana
Phone: +91 040 4014 4508
Email:[email protected]
Website: www.deccanhealthcare.co.in
Deccan Health Care IPO Subscription Details
Day
Subscription (no.

of times)

Day 1
0.33
Day 2
0.73
Day 3
1.60
Deccan Health Care Valuation (For FY2018)
Earnings Per Share (EPS): INR9.75
Price/Earnings (P/E) ratio: 9.74 – 10.26
Return on Net Worth (RONW): 34.78%
Net Asset Value (NAV): INR27.02 per share
Registrar of Deccan Health Care IPO
Bigshare Services Private Limited 
E2, Ansa Industrial Estate, Sakivihar Road,
Sakinaka, Andheri (E),
Mumbai – 400 072
Phone: +91 22 4043 0200 
Fax: +91 22 2847 5201
Email:[email protected]
Website: www.bigshareonline.com
Deccan Health Care IPO Allotment Status
Deccan Healthcare IPO allotment status is now available on Bigshare Services' website.
Click on this linkto get allotment status.
Listing performance of Deccan Health Care
IPO Opening Date: 18 December 2018
IPO Closing Date: 20 December 2018
Listing Date: 31 December 2018
Listing Price on BSE SME: INR108 per share (up 8% from IPO price)
Closing Price on BSE SME: INR113.4 per share (up 13.4% from IPO price)