{PARAGRAPH}
  "Dr.
Lal PathLabs IPO Review"
Lets go directly to financial performance of Dr. Lal PathLabs.
Quick Links
Below is the snapshot of the performance of Dr. Lal Pathlabs for the last 4 years.
Wow!, the company is growing at rate of 30% approximately. In 2005, Dr Lal PathLabs had only 10 laboratories and revenue of around Rs 45 crore.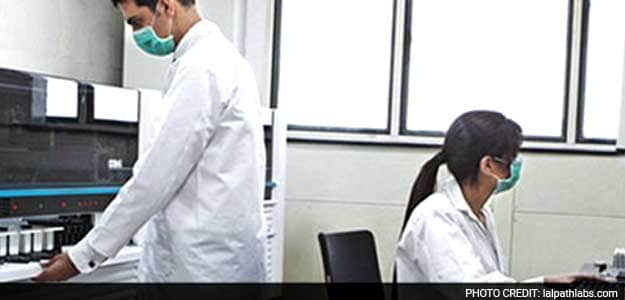 In 2015, it has grown outstandingly to increase its laboratory base to 163 and revenue to around Rs 636 crores. So lets analyze how is the valuation of this company for the price band (Rs 540 – Rs 550) the promoters are demanding.
---
Dr.Lal PathLabs promoters are selling 14.1% of the stake in the company and issuing 116,00,000 number of equity shares.
So calculating backwards,
Total number of outstanding shares  =  (11600,000/14.1) X  00 = 822,69,503 shares
Net Profit declared by Company       =  Rs 8796.9 Lakhs
So the Earning Per Share (EPS)    = (Profit/No of Shares) = 8796.9 Lakhs/822,69,503 = 10.69  
Price/Earning (PE Ratio) = Rs 550 / 10.69 = 51.44 !!
---
Update: You can subscribe to our mailing list to receive all the updates and alerts about the Dr.Lal PathLabs Initial Public Offers allotment status and review and analysis of upcoming IPOs through the subscription box at the end of this article.
  Dr.Lal PathLabs Company Background
Dr.
Lal PathLabs Limited is a Delhi based provider of diagnostic and related healthcare tests and services in India. The company was founded in 1949 and through its nationwide network, company offer wide range of diagnostic and related healthcare tests and services for use in core testing, patient diagnosis and the prevention, monitoring and treatment of disease and other health conditions.
Company has built a national network consisting of its National Reference Laboratory in New Delhi, 163 other clinical laboratories, 1,340 patient service centers and over 5,000 pickup points.
  Dr.Lal PathLabs Positives
Business model focused on the patient as a customer and an established consumer healthcare brand associated with quality services, in a market where patients generally choose their diagnostic healthcare service provider.

Company Promoters:

Well-positioned to leverage upon one of the fastest-growing segments of the Indian healthcare industry.
A network whose growth yields greater economies of scale, combined with a "hub and spoke" model that is scalable for further growth.
Centralized information technology platform with fully integrated and scalable network
Attractive financial performance, financial profile and return on invested capital.
Experienced leadership team with strong industry expertise and successful track record
  Dr.Lal PathLabs Negatives
Intense competition from major players such as Fortis, Metropolis and Thyrocare and also small independent laboratories those exist in every nook and corner of country.
The diagnostic services industry is faced with changing technology and new product introductions – Failure to acquire new diagnostic healthcare equipment and technologies could adversely affect their business, financial condition, results of operations and prospects.
Significant portion of their business comes from Northern and Eastern India, and any loss of business in these areas could have a material and adverse effect on their business
As with any other core business, their operations could be materially adversely affected by strikes, work stoppages or increased wage demands by employees or those of suppliers or other service providers they engage with.
  Dr.Lal PathLabs Share Price
The Dr Lal PathLabs IPO Share Price Band is fixed between Rs.540 to Rs.550 per equity share
  Dr.Lal PathLabs IPO Issue Dates:
The Dr Lal Path labs IPO is set be launched on 8th December 2015 and closes on 10th December 2015.
  Dr.Lal PathLabs IPO Other Details:
Issue Type: 100% Book Building
Issue Size:11,600,000 Equity shares of Rs 10
Face Value Per Share: Rs.10
Issue Price Band: Rs.540– Rs.550
Market Lot : 20 shares
Minimum Order Quantity : 20  Shares
Listing on Exchanges : BSE and NSE
  Objects of Dr.
Lal PathLabs IPO Issue:
To achieve the benefits of listing the Equity Shares on the Stock Exchanges
For the Offer for Sale of up to 11,600,000 Equity Shares..
  Dr. Lal PathLabs IPO Other Information:
Dr.
'Dr Lal Pathlabs Ipo' - 1 Video Result(s)
Lal PathLabs Contact Information :
Dr. Lal PathLabs Limited Eskay House 54, Hanuman Road, New Delhi 110 001, India Email:
[email protected]
Phone: +91 11 3040 3210
  Conclusion:
That is the review and analysis of the Dr.Lal Pathlabs IPO.
Dr Lal PathLabs On Their IPO - Dec 8
The PE band the company is asking is steep high. But as Dr.
Lal Pathlabs is the first company to come up with IPO in this industry, we can not compare the PE with industry. But the company revenues are growing at outstanding rate of 30% and if you see the (PAT/Sales) ratio 13.8%, 13.67% and 11.60% for last three years, it make sense to invest in this company.
So taking all above factors, it is advisable to invest only minimum percentage of your investment capital and not to jump with both feet.
If you are planning to sell the shares on listing day, keep an eye on some of the important events around third week of December such as Fed rate announcement and GST bill.
Also read: Sharekhan Brokerage Charges
  Sharing is Definitely Caring!:
If you are interested in applying for the Dr.Lal Pathlabs IPO, you can have look at 10 Best Stock Brokers of India.
Ok, show me the money
Also some of the stock brokers are ideally suited for beginners, one can have look at the comparison of demat accounts in India to invest and trade.
Read : What is a demat account and the procedure to open it
And, you can subscribe to our newsletter below for the detailed analysis of the next upcoming IPOs and alert on allotment status of Dr Lal PathLabs IPO.
Consider sharing this review with your friends interested in this IPO through the Social buttons on your left/below.
Disclaimer : No financial information whatsoever published anywhere here should be construed as an offer to buy or sell securities, or as advice to do so in any way whatsoever.
All matter published here is purely for information purposes only and under no circumstances should be used for making investment decisions. Readers must consult a qualified financial adviser prior to making any actual investment decisions, based on information published here in this IPO.
The author cannot be held liable for any loss arising by following this article.