Offshore wind will almost certainly be the main beneficiary of AR2. Its costs are significantly lower than wave and tidal stream and competition from fuelled renewable technologies will be limited by a cumulative cap, restricting how much budget these projects can capture in AR2.
Offshore wind has been allocated the lowest Administrative Strike Price (ASP) of all the Pot 2 technologies – effectively a cap on the strike price per MWh which an applicant project may bid in the auction.
This ASP is consistent with the UK Government's planned cost reduction trajectory for offshore wind, previously outlined in the Budget 2016, which targets offshore wind competing at £85/MWh by 2026. The ASPs for AR2 are set out in the table below.
| Technology | ASP for 2021/22 delivery year (£/MWh, 2012 prices) | ASP for 2022/23 delivery year (£/MWh, 2012 prices) |
| --- | --- | --- |
| Offshore wind | 105 | 100 |
| Advanced Conversion Technologies (with or without CHP) | 125 | 115 |
| Anaerobic Digestion (with or without CHP) (>5MW) | 140 | 135 |
| Dedicated Biomass with CHP | 115 | 115 |
| Wave | 310 | 300 |
| Tidal Stream | 300 | 300 |
| Geothermal | Unspecified – subject to a call for evidence | Unspecified – subject to a call for evidence |
Given the tumbling prices which have been seen in other European offshore wind auctions recently, the UK Government is no doubt seeking to encourage a "race to the bottom" between the contender projects.
Post Contracts for Difference Round 2 analysis
In the Netherlands, DONG Energy recently won the tender for the Borssele I and II projects with prices of EUR 71.1591/MWh and EUR 73.807/MWh respectively, while on the same day as the UK Government announced their CfD plans, Vattenfall won the contract to build the Danish Kriegers Flak offshore wind farm with a record low bid of EUR 49.9/MWh (58 per cent lower than the original auction price cap).
 Whilst these prices do not include grid costs, nor are the developers carrying significant sunk development costs relating to consenting processes, they nevertheless reflect dramatic reductions in the cost of offshore wind. These price reductions are in large part due to wind turbines increasing in size (exponentially increasing the output per unit), due to efficiency savings in logistics and supply chains, to reducing cost of capital and greater use of debt finance.
AR2 prices for offshore wind will necessarily reflect the specifics of the UK development environment and so prices will almost certainly not be as low as recently seen in parts of continental Europe.
It is not currently possible to determine how many projects can be accommodated within the AR2 budget, because electricity market reference price assumptions have not yet been published. There are a number of planned (and consented) offshore wind projects that are potential bidders in AR2.
The table below sets out UK projects that are consented but are currently without a support mechanism.

These projects face some tough choices.
The likely bidders comprise a small number of large projects.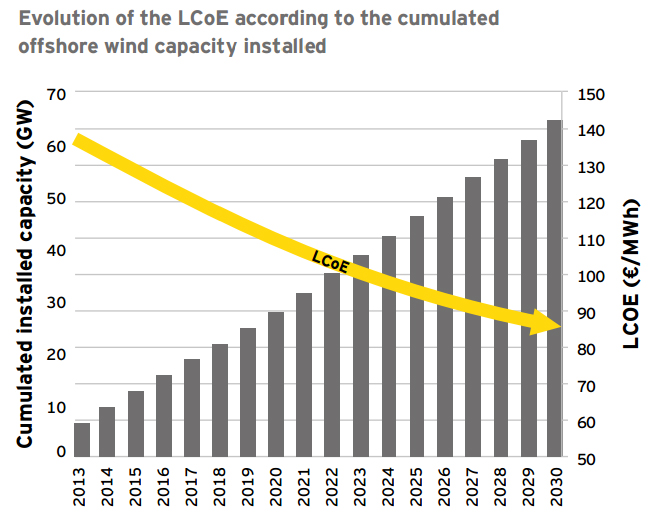 Individual developers have sunk significant development costs into these projects to date and of course will need to be successful in AR2 or future auction rounds to recoup such costs.
Furthermore, in contrast with some of the continental auction rounds where bidders have all been competing for the same development site, the UK system pitches different projects against each other (each with different site conditions, distances to shore etc.). The UK round must also be seen in the context of the wider international picture since many developers have pipelines of projects in the rest of Europe, the Far East and North America.
All of these factors must be reconciled in a developer's bidding strategy.